Monday, September 3rd, 2012
Who's Got the Longest Licker?
This Rare Tennessee Ding Bat Has a Very  Long Tongue
19 year old teen sensation Miley Cyrus enjoys flaunting and shocking others with her newly engaged body.  Whether her breasts are falling out of a tight little dress, or she is butt-cheeking out in tiny white daisy dukes, the one think you will always see sticking out is her lengthy tongue!  Rumor is fiance Liam Hemsworth's has the cleanest ears in Hollywood.  Even so Miley has a three inch tongue, she doesn't have a lick of taste apparently.  Her new short haircut looks like a dew don't, and by the way, anytime Charlie Sheen gives you the thumbs up, you're probably on the wrong track. No, she doesn't have the longest licker in relationship to her body.
Nashville Redneck to Spotted Longneck
You might think this animal would be the winner, but you would be wrong!  Most everyone knows that these long neck animals have huge lickers.  Even though giraffes have big bodies and a very long tongue measuring almost 20 inches, they don't have have the largest one in the kingdom relative to their body size.  Most think giraffes are lucky and really pretty cute – but they don't have anything on the next contestant.
Ashley Simpson She doesn't have the biggest tongue, but maybe the cutest one!  Too bad it was "bittersweet world" for Mr. Fall Out Boy Wentz when she dumped him last year.  At least Ashlee got a cute little licker named Bronx who is an amazing kid and her real live boy toy to keep on kissing on.  Well, neither Ashlee or Bronx has the longest tongue per body size, so let's keep rocking on. Is having a long tongue an evolutionary advantage – well maybe in Hollywood!??!
Don't KISS and tell!
Nope, Gene Simmons has a long list of crazy tales, and a hell of a long tongue which made him the most millions per lick of any of the creatures listed so far, but  he doesn't not have the longest tongue in the jungle when compared to ego or body size. He is touring again with Motley Crue  now- oh my!  They should name this Tour, the One Lick Too Far Tour, or perhaps the "Three Second Rule Does Apply Tour" !  I guess there are some dumb lickers still out there thinking, Charlie's Sheen was great, why not go see Grandpa Gene "sing"??
And The Real Winner of the Longest Tongue Award Goes To:
Not a Ding Bat, or an Old Bat, but an Ecuadorian Long-tongued Bat Takes the Prize!
The elusive Andean bat may not be all that sexy but it has a 3½-inch tongue, which is one and a half times as long as its body!  This flying machine is only 2 inches long!  People would need tongues about nine feet long to match the bat's proportions. The bat keeps its tongue stuffed down its throat, doubled up in its esophagus.  Not only is this one long licker, it is also very efficient.   The hairs on the end of the tongue stick straight out right before the tongue retracts, maximizing surface area and allows the bat to mop up as much nectar as possible per slurp.  So the real star of the animal kingdom is not Miley, Ashlee, Gene or the Giraffe, but a little bat from South America!
Hey Little Bat, Not so Fast…..
Hmm, maybe it's not the Length but the Width that matters?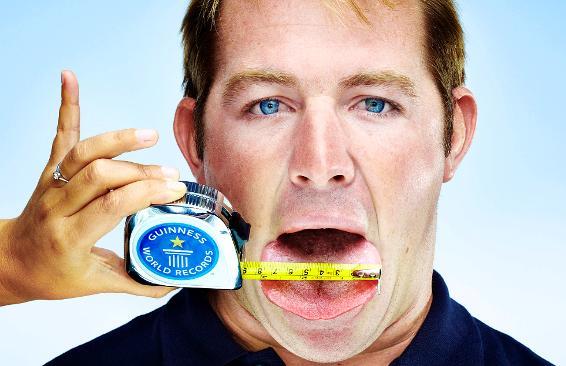 Say AHHHHH!  The widest tongue in the world belongs to Jay Sloot and measures 7.9 cm (3.1 in)!
She Zhen In ancient times, people could draw information about their internal health from the surface of the tongue.   The heart and liver are reflected in the front part of the tongue. The middle part of the tongue shows the state of the stomach. The root of the tongue is responsible for the state of the lower part of the bowels. The sides reflect the state of the liver and kidneys.  There is an iphone app that snaps a picture of your tongue and gives you some advice on what your body is working on!  An apple a day really may keep the doctor away!!
My guess is Jay has a lot of cramping in his liver and gallbladder as he trys to fit that fat tongue in his mouth!  Interesting that your heart is located right at the tip of your tongue!  Wow, I have heard of leading with your heart, but this is ridiculous!  Well, I think it is interesting that there are no reproductive organs represented on the tongue at all, and that comes as quite a shock since so much sex appeal, sex talk, and sexual innuendo is connected with tongues.  So for you goofballs out there trying to reach your girlfriends' kidney's, bladder, and intestines when you kiss her goodnight, maybe rethink your angle.
Time for some Ice Cream,
Dr. Darrin Frye, MD