Saturday, May 19th, 2012
Small Ball?
His jersey says #17 (cm) but he should be wearing #11.. (I'll do the math – 4 1/3 inches)
The New York Knicks Basketball Superstar Jeremy Lin is sometimes big on the court, but unfortunately always small in the bedroom!  It may have been one of the reasons that the Knicks weren't long for the playoff season!  The Heat were big men on campus in the series and it was sad that Lin couldn't make it back into the lineup.  Without Bosh who is injured, the Miami Heat may no longer avoid small ball and follow in the tiny footprints of the NY Knicks!  So how can such a big sensation like Lin,  have such a small pen, you ask?
Lin (student) vs. LaBron James (instructor) 2012 NBA Playoffs
Let's do a Lin-vestigation!
You would think a superstar on the hardwood would be able to make some serious hay in the bedroom, right?  Big hands, big feet right? It may not be the case at all, ladies when it comes to LinMan!  (I did read that there is a big demand for Asian looking gay men in the club scene because of Lin's popularity – which is for another blog) There is still a lot of love in the Big Apple for the way this guard played when he was in, but he ended the season more like a Big Zero instead of a Big Hero. For a town that never sleeps, Jeremy Lin proved to cause a lot of ZZZ's verses 3's this playoff season.  Many unfazed women and male supporters don't seem to mind if there's nothing down there -if those rumors about lil Lin are accurate!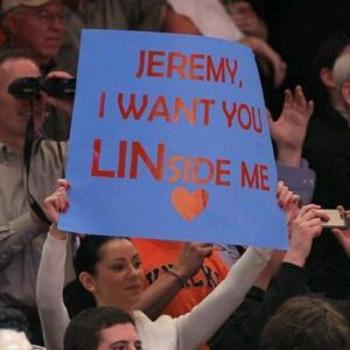 Is it in, Lin?
Jason Whitlock wrote it best, "Some lucky lady in NYC is gonna feel a couple inches of pain tonight", a reference to Lin's sexual prowess. Jason caught a lot of flack for that stereotypical joke, but it was kinda funny to read.  I know, stereotypical comments can hurt feelings and all, but holy cow, toughen up America!  Stupid jokes are not hate crimes or racism gone amuck, they are just stupid jokes.  Whatever happened to self- esteem and that saying, "sticks and stones may break my bones, but words will never hurt me?"  Did that go out in the 70's? Back from my rant, Well, Jeremy Lin may need more than an injection of some magic potion a little higher up than his knee from what I hear from the street.  Now, as Jason said, it may not be his fault, because his genes what fills his jeans.  You can pick a pocket, pick a nose, but you can't pick your parents. (Stupid joke epidemic) Maybe Jeremy needs to add some Asian tricks to make up for his shortcomings in the sack and then he can truly be BalLin.
Root Growing Powder – (tongkat ali) Maybe we call it Lintongali?  (NY Knicks Trainer's Room)
Jeremy, you may already know since you are a Harvard grad, but it is possible to get penile and testicle enlargement from taking pasak bumi (tongkat ali)! The NY Knicks should have put a large dose in their team Gaterade bucket – it may have helped them play some defense! Getting your junk to grow is a direct effect of the root's testosterone enhancing properties.  I am not sure if it would trigger a positive on your performance enhancing urine test, but perhaps if you start hitting home runs they may want to run one.
Sex Vacations
Jeremy Shu-How Lin's roots are from Taiwan and China, but all the sex craving women from his old rompin ground load up and head to the seashores of Indonesia!  Women there know that good things don't always come in small packages and head for greener pastures and bedrooms (www.fourseasons.com/jakarta/)!  So not everything is "made in China" – lovemaking seems to be an export business!  Why would women pack their bags and head south?  Size Matters.
Now playing for the NY Knicks – #35 a short and round forward, with huge junk from Jakarta, Dusty "the bone" Warrior!
The reason for this preference by Japanese and Chinese women is not the bone in the guys' nose, but the bone in the guys' clothes.  It is true that Indonesian men are the best endowed in all of East and Southeast Asia, which likely is a consequence of the fact that tongkat ali (pasak bumi in Indonesian) is so popular in the country.
Linsanity is certainly a big phenomenon – bigger than life actually.  But now it isn't all about Tongkat Ali – as there is a Lin -Bud marijuana blend that doesn't make anything bigger, but your legal fees.  Just like the Knicks championship run – it all went up in a pile of limp Lin smoke!
One way to hide your smallness, is to hang out with even smaller, like Spikey L' Lee!  Why is it that those with the small in the pants seem to have the biggest glasses and mouths?  Well, there's always next season for the Lil Knickers who are all lining up in Chinatown looking for a bigger future.
Time to say Linbye for now,
Dr. Darrin Frye