Thursday, May 24th, 2012
Smoke, and you may regret it!  I am not talking about lung cancer either..
If you are going to puff cigarettes, it might be a good idea to learn to smoke without fingers, and use your toes instead!  That's because things can die and fall the hell off if you smoke!  You might perhaps learn to eat, hold a glass, dial a cell phone, and drive while you're at it!  Kate Moss was hugely popular because of her skinny stick figure that made her a supermodel. However, Kate Moss is more remembered for her scandalous private life, party lifestyle, and high profile relationships.  She also became infamous when a newpaper published photos of her snorting several lines of white powder that was alleged to be cocaine.  Well, since she doesn't have a lot of breast size to lose on top, and skinny skinny models are on the out,  she may want to think about healthier choices, at least to save her nipples! (and keep her heiny crotch out of jail, and keep a job).
Smoking does kill!  Things fall off when blood flow stops and healing cells fail.
The effect of smoking goes farther than just causing lung damage, it also causes white blood cell inhibition.  This is a serious issue because they are damn important!   Nicotine, and carbon monoxide inhaled from a cigarette can constrict the blood flow to various parts of the body. This disrupts the  healing process of a body part by stopping blood from reaching it.  So, a little puff seems innocent enough, but it can have huge consequences that are not good at all!  Now, nipples don't just fall off.  I am talking about nipples and body parts that are injured in some fashion.
Megan Fox is smoking hot!
She is a beautiful girl, but a smoker unfortunately!  Rumor has it that she prefers pot to cigarettes which is even worse.  Somehow people that smoke marijuana don't actually think they smoke, and don't think it is bad, or illegal?  It has the  same effect, if not worse than cigarettes because THC, the main chemical component of marijuana, becomes absorbed by the white blood cells (again those darn white cells) in the body. The white blood cells are your body's "fighter" cells that  assist in the healing process. So pot can make a lot of things other than nipples fall off, like brain power, class, common sense, and a career.  You see, once a surgeon moves a nipple higher on a reconstructed breast, it has to find blood to keep it alive, and also infection can cause it to fail to heal – this is important to those who are trying to look great and need their nipples to do so.  Heck, Megans' nipples are probably insured by Lloyd's of London, if not, they should be!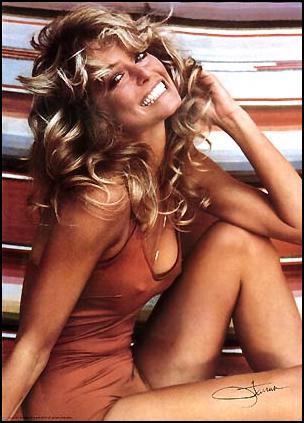 It would be a crying shame to think what might have happened if Farah Fawcett had smoked!  I think she did have breast enhancement surgery which turned out great!  We all would have gone through our teen years without her nipple poster that was in every boy's room across America!  Clinical studies have consistently shown that individuals exposed to cigarette smoke – whether "first-" or "second-hand"– heal poorly and are more likely to develop scarring and associated diseases.  Farah had an amazing body, and died way too young at age 62 of anal cancer.
Other things could fall off too!
Cross your legs before reading: a man is suing his anesthesiologist in a Miami  after his penis had to be amputated following implant surgery. He was smoking and had diabetes, and this is a prescription for bad surgical results.  Because smoking turns off your infection fighting white blood cells, and high blood sugar is toxic to circulation machinery so cells can't get to the site of infection – this person got a flesh-eating bacteria that ate his penis centimeter by centimeter! He has to sit down to urinate, he'll never have any intimate relationships with anyone.  So, if you are going to have surgery of any kind, make sure you have quit smoking and have your body in a good position to recover.
She looks good in blue! Wish the paint would fall off though.
So do what Kate Upton does, and protect your nipples by not smoking!  Sports Illustrated decided to help her by giving her breasts a coat of protective paint only!  I think it was a great start, but everyone needs to kick butt and stop  smoking!
Smoking makes your looks fall off too.  There isn't a beauty regime in the world strong enough to make up for the damage to skin due to cigarette smoking. Are you still smoking?  Really?
Time to kick the tar out of this cigarette infested country,
Dr. Darrin Frye, MD