We Need To Put The Squeeze on Cancer
Currently, one in 4 deaths in the United States is due to cancer. A total of 1,596,670 new cancer cases and 571,950 deaths from cancer are projected to occur in the United States in 2011!  While there seems to be some progress being made in diagnosis and genetic predictions, mortality rates remain remarkably resistant to our progress so far.  Scientists are really working hard to see how cancer cells seem to outwit us so easily, and they have just found a guy named JAK that is causing problems.
SEXY SQUISH
Zlata, 24 years old, is considered among the most extreme contortionists in the world, and may provide us with a visual demonstration on how cancer moves in our bodies.  Recently, scientists have discovered how cancer cells are able to squeeze between small spaces to spread throughout the body, thus avoiding our natural defense systems.
IT'S A TUMOR!
It turns out that a protein called JAK, is the key, and this gives cancer cells the ability to contract like a muscle and squeeze out of the tumor and move to other parts of the body.  When switched on, JAK makes cancer cells like Zleta, and they can morph like minature super bad heros and get through cracks and crevices (unlike this NY Rat below!)  We need to turn JAK off!
RAT ON (IN) CRACK IN NYC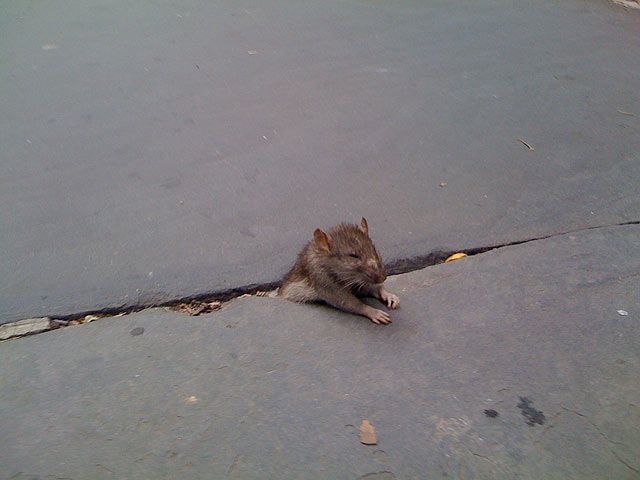 With some types of cancers, like melanoma or other skin cancers, the cells move in two ways: by "elbowing" their way through the matrix, or by going through tunnels in the tumor formed by healthy cells.  This is why you have to continually look for early changes in your body, so cancers can be detected early, way before JAK wakes up.
CANCER BUSTING
Scientists are looking at ways to block cancer from being able to read the secret code to metastisize, and are able to turn off gene expression just by stretching the DNA!  By pulling the code longer, it no longer is readable to the cancer.  That is very exciting news indeed.  The problem is that there are other systems that need to read the code to get their job done.  How to selectively block cancer without killing the body is the hard part.  It looks like advanced vitamin and mineral supplementation also may make this process easier as well – check out www.ivitaminscience.com if you want to read more about that.
While some are blocking the code alphabet, other scientists have found a gene called WWP2  that when turned off keeps cancer cells dormant.  Problem is, what happens to the rest of the system when we poison WWP2 – do we get WW2?  Is it just me, or do these pink cancer cells look like the a Victoria Secret bra that Zleta seems to have lost while getting in the glass jar?
Time to continue fighting the BIG C (please do your part and stop smoking), I can't fix these lips with Juvederm!
Dr. Darrin Frye
Tags: big squeeze, Cancer, cells, DNA, Dr. Frye, gene expression, how cancer cells spread, it's a tumor, juvederm, lips, metastasize, NYC, protein called JAK, rat on crack, stop smoking, Victoria Secret bra, WWP2, Zleta